Anti-Hazing & Anti-Bullying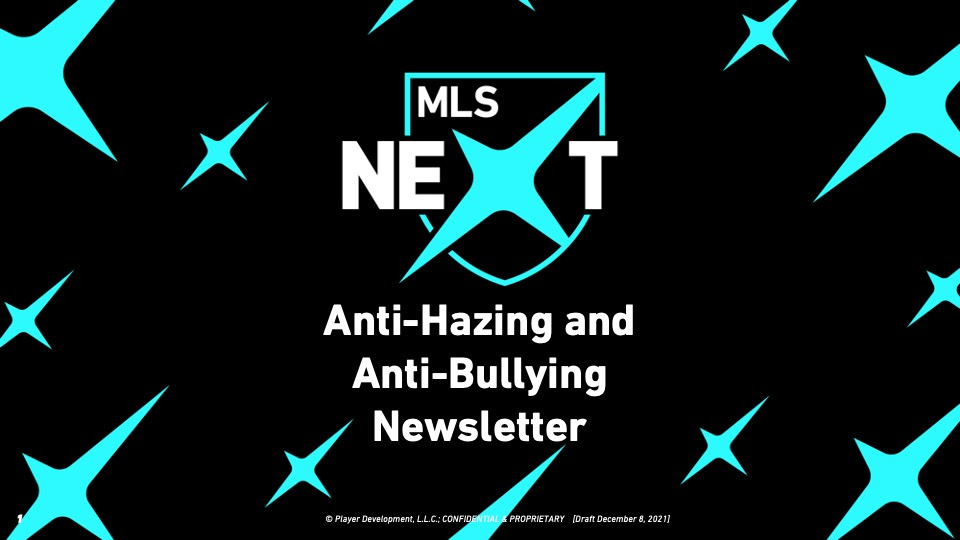 Academy Parents:
Talk openly and frequently with your kids about bullying and hazing, and the importance of being a good teammate;
Players on the team may come from different backgrounds and may hold different beliefs, thus engagement and reflection are critical tools that you and your kids can use to foster an inclusive environment that respects and celebrates player differences;
MLS NEXT has a zero-tolerance policy for hazing and bullying, and all players, staff, and family members should feel comfortable raising concerns and reporting inappropriate behavior.
Hazing and Bullying
Definitions of Hazing and Bullying can be found in the MLS NEXT Safety and Wellbeing Policy
Hazing
Hazing is any conduct that subjects another person, whether physically, mentally, emotionally, or psychologically, to anything that may endanger, abuse, humiliate, degrade, or intimidate the person as a condition of joining or being socially accepted by a group, club, team, or other organization.
Bullying
Bullying includes repeated and/or severe physical, verbal, social, sexual, or criminal behaviors that are: (i) aggressive; (ii) directed at another; and (iii) intended or likely to hurt, control, or diminish the other person emotionally, physically, or sexually.
Reporting Mechanisms
All reports may be reported anonymously
Report Hazing and Bullying to the Club and, as appropriate, MLS NEXT and the U.S. Center for SafeSport.
The PDev Hotline can be contacted at (646) 682-5200 or by emailingSafeSport@mlsplayerdevelopment.com. No direct fees or other costs are associated with making a report to the PDev Hotline.
In addition, the U.S. Soccer Integrity Hotline is available at (312) 528-7004, as well as via its website at https://ussoccer.i-sight.com/portal. For more information, see www.ussoccer.com/report-a-concern.