Joan Oliva named LATDP Elite MLS NEXT Director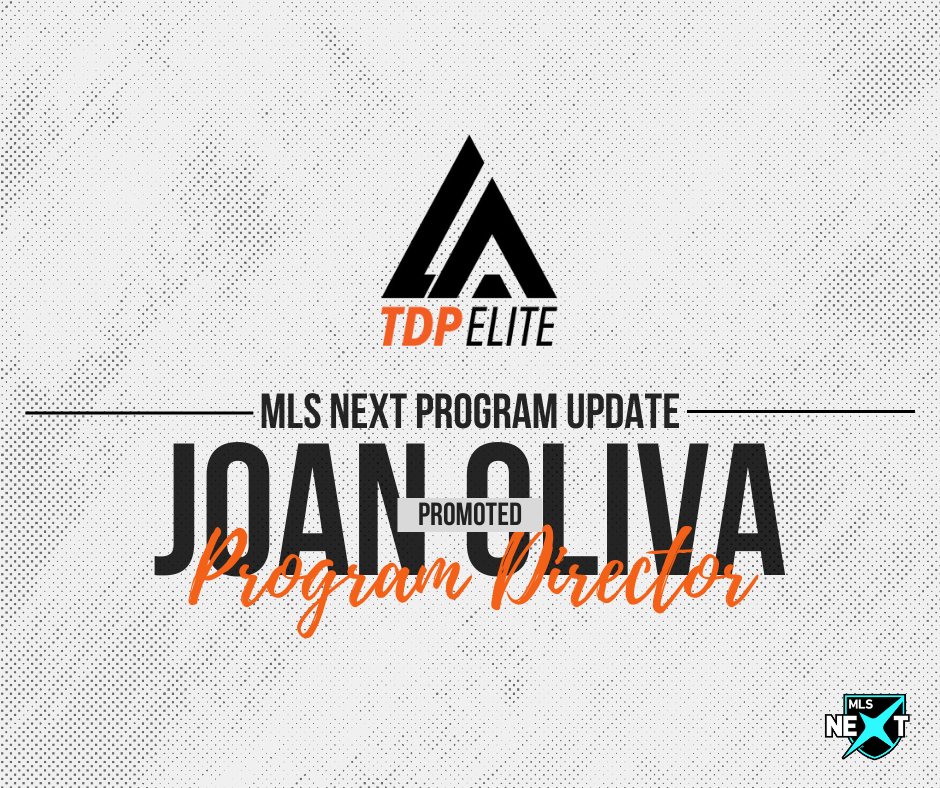 Dear LATDP ELITE MLS NEXT members,
We would like to inform the membership of our plans moving forward for the remainder of the 2021-22 MLS NEXT season regarding coaching assignments and Director positions.
We are proud to announce effective immediately Joan Oliva will be taking over the responsibilities as the MLS NEXT Director.  Coach Joan Oliva is a native of Barcelona, Spain who currently serves as the Technical Director for Lafayette Dynamo Juniors and the Louisiana Krewe of USL League 2.  Oliva is well-cultured in the game having coached on all five continents spread across twelve different countries.  He previously served as the Youth Coach at FC Barcelona before moving onto head coaching duties with CD Primeiro d'Agosto and Domant of the Angolan First Division.  Oliva holds a UEFA PRO License, the highest European license attainable, a teaching degree, a Professional Soccer Master in Madrid, and Sports and Psychology superior studies. Joan is currently coaching our 2007 MLS NEXT team, assisting with the 2008 MLS NEXT team, and will also be assisting our 2009 boys MLS NEXT team.
We are proud to announce that effective immediately Keir Hannity will be promoted as the Assistant MLS NEXT Director.  Keir Hannity is a native of Sheffield, England. Keir has coached players of various ages and levels in both England and the USA over the last 11 years. As a player, he started his career with Sheffield United FC where he spent 7 years, before moving on to other professional and semiprofessional clubs. While still playing Keir obtained his LLB Law Degree in the UK, before moving on to study a master's degree in international business at Central Connecticut State University whilst Captaining their division 1 Soccer program.  Keir has been coaching in Louisiana since 2016 and currently serves as the Boys Director at Louisiana Fire Soccer Club. He has developed and helped create pathways for players into professional clubs which has been integral in moving players from Louisiana into professional clubs over recent years.  Keir's current coaching licenses include the FA Youth Award Level 1 and Level 2, UEFA C License (Currently Finishing UEFA B License), NSCAA Premier Diploma.  Keir is currently coaching our 2008 MLS NEXT team, assisting the 2007 MLS NEXT team, and will be taking over the head coaching duties for our 2005 boys MLS NEXT team.
We are proud to announce that Alfi Conteh will be taking over the head coaching position for the 2009 MLS NEXT team in addition to coaching our 2003 MLS NEXT team.  Alfi Conteh Lacalle is a former FC Barcelona youth player and Sierra Leone international.  He will be working on his coaching internship to fulfill his UEFA C/B License obligations.  Coach Alfi will be focusing on global player development, transferring all the knowledge he has acquired playing professionally in 8 different countries and coaching the last 3 years in Spain and Finland. 
Additionally, we have decided that we will continue with two training sessions in Baton Rouge on Tuesdays and Thursdays as scheduled and Mondays and Wednesdays in each of the three hubs located in Baton Rouge, Lafayette, and New Orleans.
We will be providing additional details regarding further developments/news/improvements to the program such as travel, team expenses, sponsorships, and focused player initiatives, in the coming days. Please don't hesitate to reach out to us with any questions or concerns.
Best,
Loui
Louie Smothermon
Hubie Collins
Hcollins@louisianafiresoccer.com
Kevin Mooney