Over 200 Coaches at MLS NEXT Fest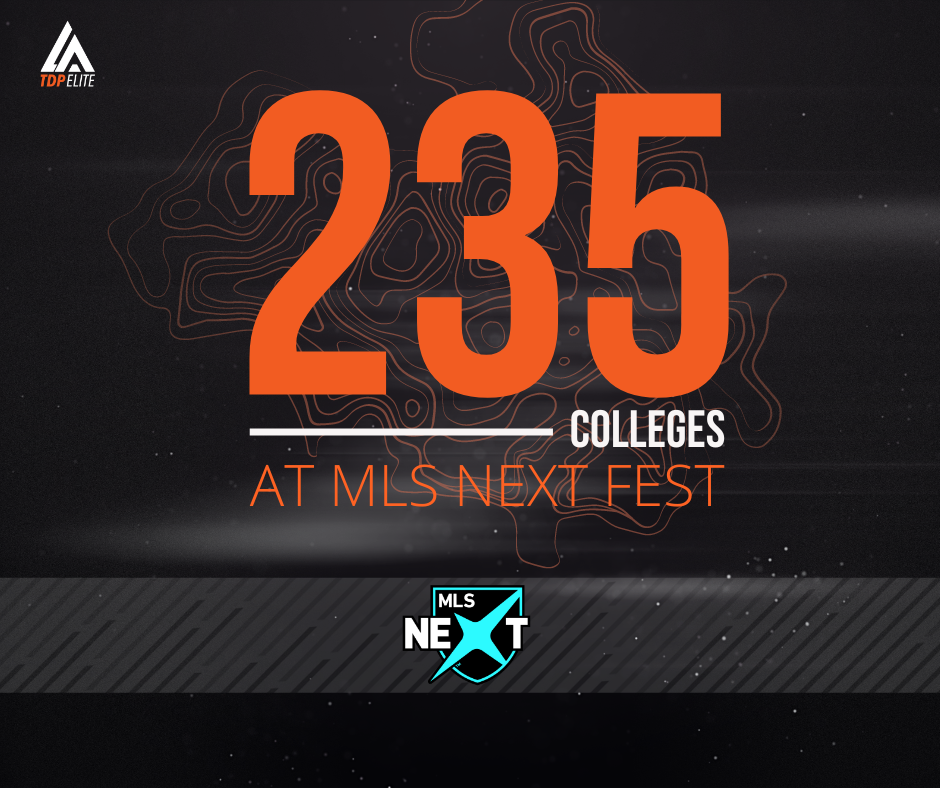 MLS NEXT Fest features over 300 of the top youth teams across the United States and Canada competing in the MLS NEXT Fest Showcase and Generation adidas Cup qualifiers. The seven-day event held at the Empire Polo Ground in Indio, Calif. from December 2-8, 2022, provides an opportunity for North America's top youth talent to be seen by college, national team and professional scouts/coaches in a single location.
At this year's showcase, 235 colleges attended the showcase. The complete list of colleges in attendance is available below.
American Univeristy
Amherst College
Arizona Christian University
Army West Point
Averett University
Azusa Pacific University
Babson College
Barry University
Barton College
Bates College
Bellarmine University
Belmont University
Boston College
Boston University
Bowling Green State University
Bradley University
Brandeis University
Brown University
Bucknell University
Butler University
California Baptist University
California Polytechnic State University
California State Polytechnic University, Pomona
California State University at Fullerton
California State University Northridge
California State University, Chico
California State University, Los Angeles
California State University, Stanislaus
Campbell University
Canisius College
Case Western Reserve University
Chatham University
Claremont-Mudd-Scripps
Clemson University
Cleveland State University
Coastal Carolina University
Colgate University
College of Mount Saint Vincent
College of the Holy Cross
Colorado College
Colorado School of MInes
Columbia University
Concordia University, Nebraska
Connecticut College
Cornell University
Creighton University
Dallas Baptist University
Dartmouth College
Davidson College
Depaul University
Dominican University of California
Drexel University
Duke University
Eastern University
Eastern University (PA)
Elmhurst College
Emerson College
Emmanuel College (Massachusetts)
Emory University
Example University
Florida International University
Fordham University
Furman University
Gardner-Webb University
George Mason University
George Washington University
Georgetown University
Georgia Southern University
Georgia State University
Gonzaga University
Grand Canyon University
Harvard University
High Point University
Hobart and William Smith Colleges
Hope College
Houston Baptist University
Humboldt State University
Indiana University
Iona College
James Madison University
Johns Hopkins University
La Salle University
Lafayette College
Le Moyne College
Lehigh University
Liberty University
Lindenwood University
Lipscomb University
Long Island University-Post
Loyola Marymount University
Loyola University Chicago
Manhattanville College
Marist College
Marquette University
Maryville University
McKendree University
Mercer University
Merrimack College
Metropolitan State University of Denver
Michigan State University
Middlebury College
Millikin University
Missouri State University
Mohave Community College
Molloy College
Montana State University Billings
Mount St. Joseph University
Muhlenberg College
North Carolina State University
North Central College
Northeastern University
Northern Illinois University
Northern Kentucky University
Northwestern University
NYU
Oakland University
Oberlin College
Occidental College
Ohio State University
Old Dominion University
Oral Roberts University
Oregon State University
Pace University
Pennsylvania State University
Pennsylvania State, Harrisburg
Pomona College
Presbyterian College
Princeton University
Providence College
Robert Morris University
Ryans College
Sacramento State University
Saint Francis Brooklyn College
Saint Johns University
Saint Josephs University
Saint Louis University
Salisbury University
Salt Lake Community College
San Diego State University
Santa Clara University
Seattle University
Seton Hall University
Siena College
Southern Illinois University Edwardsville
Southern Methodist University
St Johns University
St Marys College of California
St. Thomas Aquinas College
Stanford University
State University of New York at Oswego
Stetson Univeristy
Stonehill College
Stony Brook University
Suffolk University
SUNY New Paltz
Syracuse University
Temple University
Trinity College
Trinity University
Tufts University
U.S. Merchant Marine Academy
Union College
United States Air Force Academy
United States Naval Academy
University at Albany–SUNY
University of Akron
University of California Berkeley
University of California Davis
University of California Irvine
University of California Riverside
University of California Santa Barbara
University of California, Los Angeles
University of California, San Diego
University of Central Florida
University of Connecticut
University of Dayton
University of Delaware
University of Denver
University of Evansville
University of Hawaii at Hilo
University of Kentucky
University of Louisville
University of Maryland
University of Maryland, Baltimore County
University of Massachusetts
University of Massachusetts Lowell
University of Michigan
University of Nebraska Omaha
University of Nevada, Las Vegas
University of New Hampshire
University of North Carolina
University of North Carolina Asheville
University of North Carolina at Charlotte
University of North Carolina at Greensboro
University of North Carolina Wilmington
University of North Florida
University of Notre Dame
University of Pennsylvania
University of Pittsburgh
University of Portland
University of Providence
University of Redlands
University of Rochester
University of San Diego
University of San Francisco
University of South Carolina
University of South Florida
University of St. Thomas (Minnesota)
University of Texas Rio Grande Valley
University of the Incarnate Word
University of the Pacific
University of Tulsa
University of Vermont
University of Virginia
University of Washington
University of West Alabama
University of Wisconsin
University of Wisconsin – Green Bay
Vanguard University
Villanova University
Virginia Commonwealth University
Virginia Tech University
Wake Forest University
Washington and Lee University
Washington University in Saint Louis
Wesleyan University
West Virginia University
Wheaton College (Illinois)
Whitworth University
Willamette University
Williams College
Winthrop University
Wofford College
Xavier University
Yale University