MLS NEXT – OPEN TRYOUTS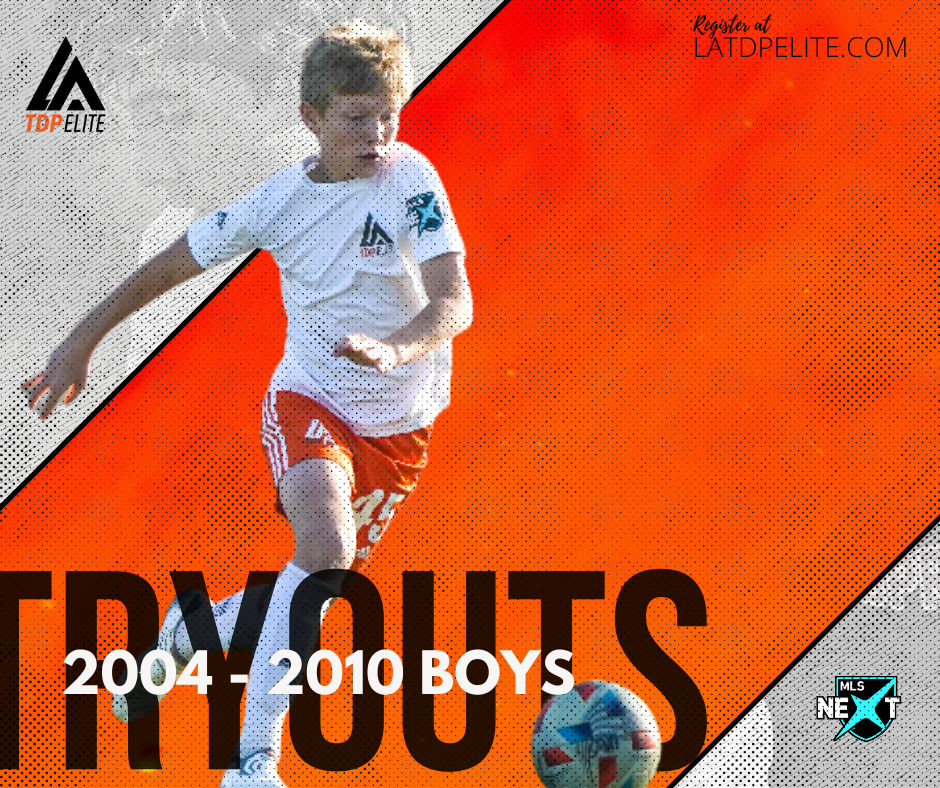 Registration is currently open for all 2010 through 2004 boys (regardless of club affiliation) for the 2022/23 MLS NEXT season. LATDP Elite's tryouts provide players with the opportunity to be assessed at an initial tryout. The initial tryout acts as the first step in the identification process for LA TDP ELITE, where players will be assessed by LA TDP Elite Coaches and Support Staff. All initial tryouts will take place at Burbank Soccer Complex.
All initial tryouts will take place at Burbank Soccer Complex. The April 3rd tryouts will take place on fields 5, 6, and 11 from 5:00 – 6:30 pm. Tryouts on April 24 for the 06 and 04/05 will be held on 5 and 6. Check-in for both tryouts will take place at the pavilion near field 6 (close to the Siegen entrance). 
Please Note: the 2010 Boys age group will follow the traditional, 2-day tryout process with the potential of additional programming in Summer 2022. All other age groups will participate in one initial tryout, whereby invitations to attend multiple LA TDP Elite (MLS Next) training sessions will be sent 5-day after the initial tryout if successful. Players who are invited to, and attend multiple training sessions with the LA TDP Elite (MLS Next) teams will be evaluated further in the team environment and may/may not be invited to join the program.
The cost of the tryout is $100 (non-refundable), for any players who are successful in the identification process $50 of this fee will be offset as part of the program fee. ALL players must register for tryouts, any players unable to attend the tryout are not entitled to a team training session. It is recommended to make every effort to attend the tryout. Exceptions are at the discretion of the LA TDP Elite Staff.
More information and FAQs regarding the LA TDP Elite (MLS Next) tryouts, can be found here.
Age Group
Date
Time
2010 Boys
Sunday, March 27th, 2022
Sunday, April 3rd, 2022
5pm – 6:30pm
2009 Boys
Sunday, April 3rd, 2022
5pm – 6:30pm
2008 Boys
Sunday, April 3rd, 2022
5pm – 6:30pm
2007 Boys
Sunday, April 3rd, 2022
5pm – 6:30pm
2006 Boys
Sunday, April 24th, 2022
5pm – 6:30pm
2005/2004 Boys (Combined)
Sunday, April 24th, 2022
5pm – 6:30pm